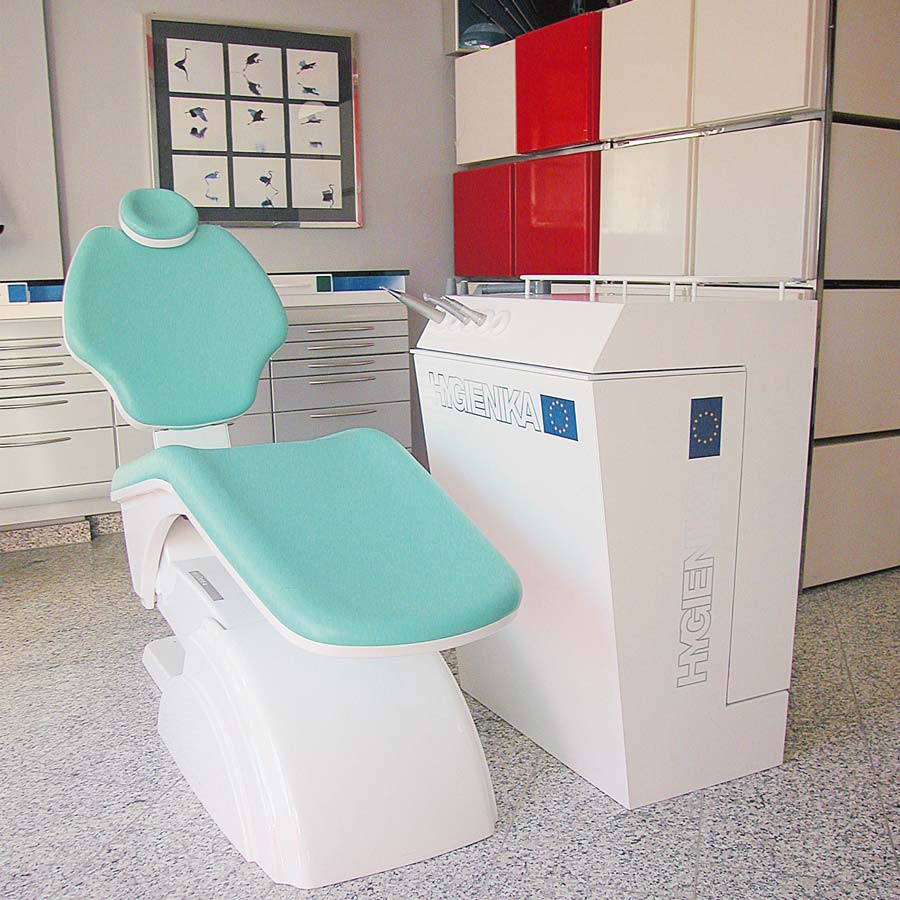 is a new chair-independent unit for dentists and assistants - HYGIENE without cart and whip arm. This unique equipment is the result of 50 years of my own experience.
The HYGIENIKA-body consists of a lightweight and robust powder-coated aluminum cabinet. It is a chair-independent docking unit for dentists and assistants (combination unit).
The innovative HYGIENIKA is a low-maintenance, space-saving unit with completely concealed retraction and customizable equipment.
The dentist module comes equipped with two motors, one turbine, multi-functional syringe and ultrasonic instrument.
The hose storage is concealed. The motor hoses retract at the end of treatment and are located in a separate chamber system, which can be charged with AEROSOL. Each equipment set can be operated independently without any storage obstruction.
The instrument tray on the dentist module is shift-proof, clearly visible and easily accessible for both dentist and assistant. The rinse cup, located underneath the sliding dentist module, is protected from spray mist. Opening the dentist module reveals the cuspidor, which is covered during treatment.
The assistant's side is equipped with the suction system; the multi-functional syringe is accessible from both sides. The sliding mechanism allows for the instruments to be brought as close as possible to the mouth of the patient, treatment pathways are short and unobstructed.
Accidentally missing the treatment motors does not cause them to fall to the floor.
The patient does not feel uneasy about the tray or the equipment being brought up close, he/she is not boxed in.
The advantages
AT A GLANCE

completely new treatment process due to the sliding and fold-out system
hygienic hose storage
(in a separate chamber with Aerosol spraying system)
low maintenance, smooth
minimum surface space requirements
customizable equipment and free choice of colors
docking possibility
economical
no treatment restrictions due to obstructions
concealed hygienic cuspidor bowl
no exposure to spray mist
self-retracting hoses
secure instrument tray
each equipment set can be operated independently without any storage obstruction
integrated surgical motor connected to a
bottle system
easy repair access and exchange of the bottle located in the main body
short treatment pathways
secured hose systems without freefall
unobstructed entry and exit